Buzzvel Year in Review 2022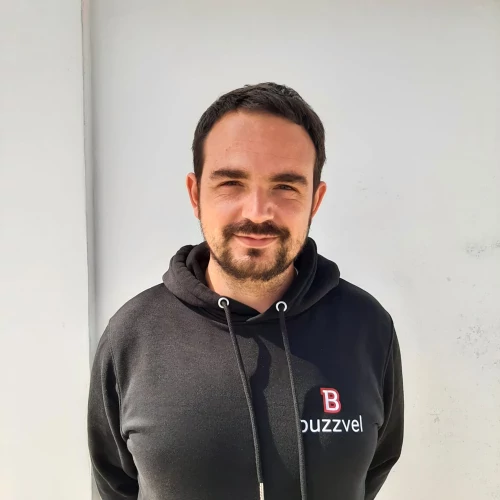 ---
Wow, what a year it's been! It feels like only yesterday I was ringing in the new year. Now here we are, reflecting on everything that made 2022 so special.
As we reflect on the past year, we are proud of the progress and growth that our company has achieved.
One of our major accomplishments was the new version of our website, which has received excellent feedback from customers and helped to increase sales revenue and credibility in our area.
We also implemented new work methodologies that resulted in increased efficiency and profitability.
Additionally, we expanded our business to new countries and cultures, allowing us to reach a larger global audience.
We started using ..
ClickUp (Our Project Management)
At the beginning of the year, we found ourselves struggling to find a tool that could well meet our needs. After careful consideration, we chose Clickup, and it has been a game-changer for our team.
The intuitive interface, customizable workflows, and comprehensive reporting capabilities have given us the power to manage projects more efficiently, enabling us to get more done in less time.
This tool helped to monitor and organize our tasks and organize, which was considered crucial in view of the intended growth, as well as for better management of internal time. We also used the Clickup Automation Feature, to create automation in our internal actions that allowed better time management and allocation of our internal resources in a more effective and productive way.
In addition to the enormous help that this implementation brought, it even allowed us to allocate all communication with our customers, greatly reducing the number of emails, and ensuring faster access to information.
Therefore, we consider ClickUp one of the major improvements that we made this year.
---
We also launched our blog this year, which has been a great success.
The blog allows us to share valuable content with our audience, showcase new products and services, and engage in conversations with customers. The contents of the Blog allowed us to increase our presence in Social Networks exponentially, generating more sales and leads for our business.
In our blog, we intend this year to talk about innovation and the best solutions for your business.
---
The tech world is constantly changing. We kept up with the trend by investing in new technologies and utilizing them to drive improvement.
Hubspot and Preact are one of the examples of technologies that are widely used today, and as such, we believe that their integration into the company in 2022 was essential for us to be competitive in the face of market demands.
This integration has allowed us to respond almost automatically to the requests we receive from our partners, further enriching our portfolio.
Click here to see our technology stack.
---
International Markets
This year, we also expanded our services to new countries.
Australia and the United States (Hotspotty) are examples of countries where we are working and sharing our methodology, thus achieving trust and also an "open door" for us to continue to present our solutions and services.
Of these, we highlight the pharmaceutical, health, crypto, and hospitality market.
Regarding the pharmaceutical industry market, we are developing a unique test tracking platform where the technological component allows for the monitoring of tests through a fully dedicated app and dashboard.
In crypto market (Hotspotty), we built this CRM platform that allowed users to organize their operations in expanding the Helium network. As the Helium network grew exponentially, so did the amount of user data being managed. This posed scaling and performance challenges.
Regarding the hospitality market, we believe that our intervention is already a success. The ordering process became one of the main reasons why "Coma ou Leve" looked for Buzzvel. There was an urgency to automate the process and even correspond to customers' expectations regarding orders in one of the highest sales seasons, Christmas and New Year, with around 1000 orders per day.
We are proud of the improvement this initiative has brought us as it has allowed us to generate more sales, increase brand recognition and expand our customer base.
It was encouraging to be able to promote our products and services internationally, allowing us to establish ourselves as a global business.
Click here to see our portfolio.
---
Team Growth
We also expanded our team this year, which helped us become even more efficient. We welcomed new talents and expertise in the fields of sales, marketing, development, design and customer support.
A more qualified team, allowed us to be better prepared to meet the needs of our customers and to expand our services even more.
We also invested in the development and training of our employees, ensuring that they have the skills and support they need to succeed. This focus on employee development has contributed to a positive and supportive work environment, which has been reflected in our high employee retention rate.
Click here to see our careers.
---
Awards
This year our team was recognized and awarded for the excellence of its services.
Our effort and dedication to the project brought us recognition and with it, we can highlight some awards received in 2022 and that we also helped to achieve:
- Hotspotty - It is considered the market leader in the ecosystem and received community-voted awards such as the Helium Noble Awards (blog.helium.com/2021-noble-awards-winners-announced-12107cd62aa7)
- Buzzvel - Was distinguished in 2022 among the 27 best companies working with Laravel technology (https://laravel-news.com/)
- XLR8RMS - A SaSS project was valued at 1.4 million in its first investment round.
---
In conclusion, 2022 was an improvement year for us. With the introduction of new products and services and expansion to new countries, we have made great strides in our company's growth and success.
We cannot wait to see what milestones we can achieve in 2023!
Cheers!
Mauro Gama 👍✨🥳